I recently started  "Comp Chem Kitchen" with Richard Cooper and Rob Paton in the Department of Chemistry here in Oxford. It's a regular forum and seminar series  for molecular geeks and hackers, in the original, untarnished sense of the word: people using and developing computational methods to tackle problems in chemistry, biochemistry and drug discovery. Our hope is that we will share best practices, even code snippets and software tools, and avoid re-inventing wheels.
In addition to local researchers, we invite speakers from industry and non-profits from time to time, and occasionally organize software demos and tutorials.
We also provide refreshments including free beer. (We are grateful to Prof. Phil Biggin and the MRC Proximity to Discovery Fund for offering to support CCK.)
CCK-1
Our first meeting, CCK-1,  was held in the Abbot's Kitchen on May 24, 2016, at 5 pm, and was a great success—standing room only, in fact! The Abbot's Kitchen—originally a laboratory—is a beautiful stone building built in 1860 in the Victorian Gothic style, alongside the Natural History Museum, at a time when Chemistry was first recognized as a discipline.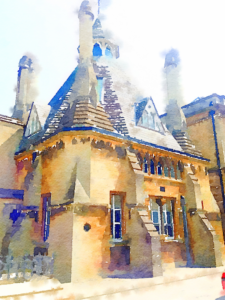 We heard a fascinating talk from Jerome Wicker from the Department of Chemistry who spoke about "Machine learning for classification of solid form data extracted from CSD and ZINC", and described a method that could successfully discriminate (~80%) whether a small molecule would crystallize or not. The software tools he discussed included RDKit, CSD, and scikit-learn. There were also two lightning talks, each 5 minutes long, one from OPIG member Hannah Patel,  from the Department of Statistics, on "Novelty Score: Prioritising compounds that potentially form novel protein-ligand interactions and novel scaffolds using an interaction centric approach", who briefly described her Django-based web interface to her RDKit-based tool to analyse structures of ligands bound to proteins and help guide future medicinal chemistry to find novel compounds. We also had a talk from Dr Michael Charlton from InhibOx spoke about "Antibacterial Drug Discovery and Machine Learning".
CCK-2
Our next Comp Chem Kitchen, CCK-2, will be held next Tuesday (June 14th, 2016), and you can register free for CCK-2 here.
We will have talks from:
Hope to see you there!  (Did I say free beer?)