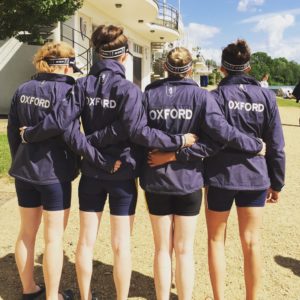 I couldn't decide whether to write this blog post. However, I sifted through the archives of BLOPIG and found in the original post this excerpt:
"And if your an athlete, like Anna (Dr. Lewis) who crossed the atlantic in a rowing boat or Eleanor who used to row for the blues – what can I say, this is how we roll, or row [feeble attempt at humour] – thats a non-scientific but unique and interesting experience too (Idea #8).  ."
Therefore I've decided that it might be an interesting post to look into what life is like when you are studying for a DPhil and also training for the blues. Rowing in particular is a controversial sport – I have heard of many stories advocating that rowing will be the absolute detriment to your DPhil. I've never felt pressured as part of OPIG to give up rowing – all of my supervisors have been very fair, in that if I get the work done then they accept this is part of my life. However, I realise all supervisors are not so understanding. I hope this blog post will give some insight into what it is like to trial for a Blues sport (in this case Women's Lightweight Rowing), whilst studying for a DPhil at Oxford.
4:56 am – Alarm goes off. If its after September it's dark, cold and likely raining. No breakfast as I will do the first training session fasted – just get dressed and go!
5:15 am – Leave the house with a bag full of kit, food for the day, laptop and papers to cycle to Iffley Sport's Centre
5:45 am – Lightweight Women's minibus leaves from Iffley to drive to Wallingford. Some girls try to study in the bus, but to be honest its too dark and we're all a bit too sleepy.
6:15 am – Arrive at Wallingford. Get onto the water for a session in the boats. Although in the Boat Race we race in an 8 (8 rowers with one oar each, with a cox steering), we spend lots of time in different boats throughout the season. Perhaps unlike our openweight counterparts, we also do a lot of sculling (two oars per rower) as the only Olympic class boat for lightweight women is a sculling boat. We travel to Wallingford for a much longer, emptier stretch of river and normally get to see the sunrise.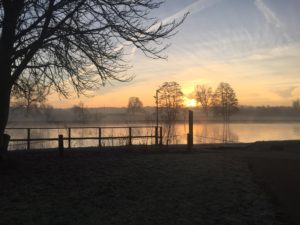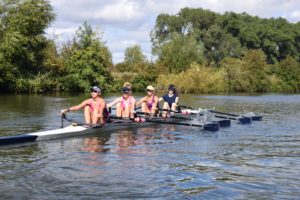 8:10 am – We leave Wallingford to head back to Oxford. Start waiting in A LOT of traffic once you hit the ring road, and there's a lot of panic in the bus about whether 9 am lectures will be made on time!
8:50 am – Arrive back at Iffley Sport's Centre. Grab bike and cycle to the department.
9:00-9:15 am – Arrive at the Department. Quick shower to thaw frozen fingers and to not repulse my fellow OPIG members. I then get to eat warm porridge (highlight of the day) and go through my emails. I also check whether any of my jobs have finished on the group servers – one of the great perks of being in OPIG is the computational resources available to the group. Check the to-do list from yesterday and write a to-do list for today and get to work (coding, plotting results, reading papers or writing)!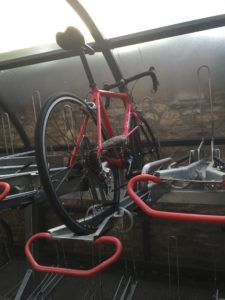 11:00 am (Tuesdays & Thursdays) – Coffee morning! Although if it's any time close to a race no bourbon biscuits or cake for me. This is a bit of an issue because at OPIG we eat a lot of cake. However, one member can usually be relied upon to eat my portion..
1:00 pm – Lunchtime! As a lightweight rower I am required to weigh-in at 59kg on the day of the Boat Race. If I am over that weight I don't get to race. Therefore, I spend a portion of the year dieting to make sure I hit that target. The dieting lunch consists of soup and Greek yogurt. The post race non-dieting lunch consists of pasta from Taylors, chocolate and a Coke (yum!). OPIG members generally all have lunch at this time and enjoy solving the Times Cryptic Crossword. I'm not the best at crosswords so I normally chat to Laura and don't concentrate.
2:00 pm – Back to work. Usually coding whilst listening to music. I normally start rushing to be able to submit some jobs to the group servers before I have to leave the office.
3:00 pm – Go to get a chocomilk with Clare. A chocomilk from the vending machine in our department costs 20p and is only 64 calories!
5:30 pm – Cycle to Iffley Sports Centre for the second training session of the day.
5:45 pm – If it's light enough we hop in the minibus to go to Wallingford for another outing on the water. However, for most of the season its too dark and we head to the gym. This will either consist of weights to build strength, or we will use the indoor rowing machine (erg) to build fitness. The erg is my nemesis, so this is not a session I look forward to. Staring at a screen that constantly tells you how hard you are pushing, or if you are no longer pushing as hard I find to be psychologically quite tough. I'd much rather be gliding along the river.
8:35 pm – Leave Iffley after a long session to head home. Quickly down a Yazoo (strawberry milk) to boost recovery as I won't be eating dinner until 45 minutes to an hour after the end of the session.
9:00 pm – Arrive home. I "cook" dinner which when I'm dieting consists of chucking sweet potato and healthy sausages from M&S in the oven while I pack my kit bag for the next day.
9:30 pm – Wolf down dinner and drink about a pint of milk, whilst finally catching up with my boyfriend about both our days.
10:00 pm – Bedtime at the latest.
Repeat!