Can you help our research, by sparing about 15 minutes of your time to participate in our crowd-sourcing experiment? Click here!
We have created a game-like web-application to classify protein helices. If you participate it will take you about 15 minutes and afterwards we will show you the relation between your results and all other participants. You do not need any specific training to participate – your natural human puzzle solving skills are sufficient. Try to beat the others!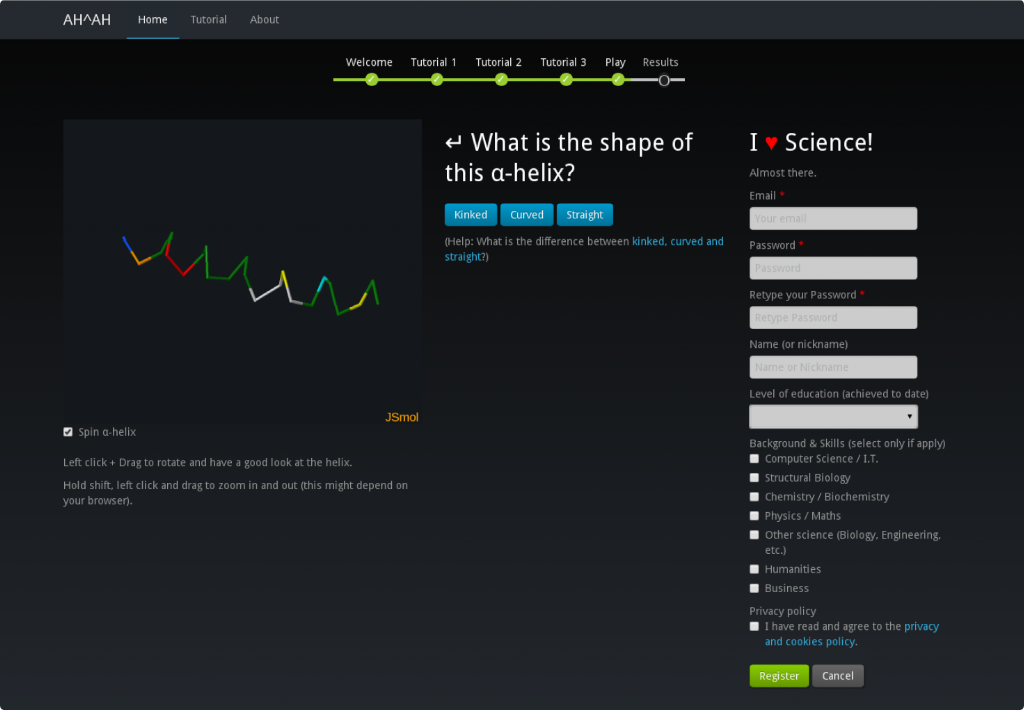 We are interested in kinked α-helices in proteins. Kinks are important for protein function, and understanding them will help to treat and design therapies for diseases. One hindrance to our work is that helix kinks are not well defined – there are many helices that are classed as kinked by some scientists, but not by others. Classifying helices as kinked or curved or straight is difficult computationally. There are lots of different way to do it, but they all give different answers. We think that humans can do it better.
Can you help us by sparing about 15 minutes of your time to assess some α-helices? Click here!
Edit: To participate in this, you need to register. While the data will be made anonymous, registration is required for a number of reasons. It allows you to log back in, and view you results at a later date, it gives us a record that you have participated (so that we can acknowledge your help), and it allows us to compare the results from people with different educational backgrounds. There are also some legal reasons, and it is much more simple if we can record that you have agreed to the privacy and cookies policy, and do not have to ask permission every time you return. We will not pass your data on to third parties, and the data is stored securely (and the passwords encrypted).